Why is Forgiveness Important?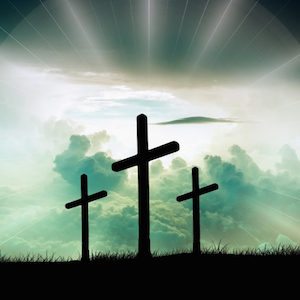 Let's Start with what Season we are currently in as Christians. This is Holy Week.
It was now about noon, and darkness came over the whole land until three in the afternoon, for the sun stopped shining. And the curtain of the temple was torn in two. Jesus called out with a loud voice, 'Father into your hands I commit my spirit.' When he has said this, he breathed his last. – Luke 23:44-46
This particular Holy Week has felt different in so many ways due to COVID-19.
How strange it has been to walk outside and see the light pink blooms of the Dogwood, hear the early morning melody of the song birds and feel the warmth of the sun on my face after a long night of rain, all while anxiety and fear, profound sadness and daily death of so many so closely surround us.

One blessing that stands out when time stands still is that during this particular Holy Week, we are afforded the opportunity to immerse ourselves in the word of God, walking those final days and hours of our Savior's life on earth leading up to his crucifixion.
As I read about the moments leading up to the crucifixion of Jesus, the soldiers who led Jesus away and the women who mourned and wailed for him, I have wept. This year Holy Week has been even more transformative.
Two other men, both criminals, were also led out with Him to be executed. When they came to the place called the Skull, they crucified him there, along with the criminals –one on his right, the other on his left.
Jesus said, "Father, forgive them, for they do not know what they are doing." And they divided up his clothes by casting lots. – Luke 23:32-34
As we approach Easter Sunday, can we imagine a greater gift than our Heavenly Father's forgiveness of our sins and the sacrifice of God's only son who paid the very steep ransom for our sins?
Jesus was innocent and was without sin and yet he was humiliated, flogged, mocked, and was crucified, suffering an unimaginably painful death so that we might be saved. When we confess our sins, truly repent and ask for God's forgiveness, we are forgiven. We are cleansed. We are made new. We have the promise of eternal life with our Heavenly Father.
If we confess our sins, he is faithful and just and will forgive us our sins and purify us from all unrighteousness. – 
1 John 1:9
Just as God forgives us of our sins and the many ways in which we wrong others, God commands us to forgive one another. God did not only die for our sins, but also for the sins of those who have wronged us. Unfortunately, it is far too easy in our own personal conflicts to forget the dear price Jesus Christ paid on the Cross for us. The more natural responses are anger, bitterness, resentment and retaliation. These responses harden our hearts and prevent forgiveness. Only God can open our hearts to forgive the person who has wronged us and to see our role in the conflict. Only God can truly transform those experiencing conflict.
Therefore, as God's chosen people, holy and dearly loved, clothe yourselves with compassion, kindness, humility, gentleness and patience. Bear with each other and forgive one another if any of you has a grievance against someone. Forgive as the Lord forgave you.  – Colossians 3:12-13
If you are in conflict with another, whether it is your spouse, your child, your co-worker, your friend, turn to the Lord in prayer and be reminded of the sacrifice that was made for you and that was made for the person who wronged you. The Bible tells us how to handle the conflict that is inevitable in our relationships and at the heart of how we are instructed to respond to conflict is with forgiveness.
If you are struggling with how to forgive someone, write out a prayer to God and pray daily asking for God's intervention in this matter.
Your prayer may include asking God to soften and ready your heart and the other party's heart for forgiveness.
Your prayer may include asking God to help you hear and really understand the other person's feelings and how he or she has been impacted by the conflict.
Your prayer may include asking God to reveal your role and any wrongdoing on your part in the conflict.
Your prayer may include your seeking the other party's forgiveness and God's forgiveness.
Your prayer may also include communicating to the other party how you feel wronged by his or her actions and how the conflict has impacted you and that you forgive that person. Pray for patience too.
To truly repent and to seek forgiveness is not an overnight process and it most certainly does not happen without God. Never forget the sacrifice that Jesus made on the Cross for all of us.
Blessed is the one whose transgressions are forgiven, whose sins are covered. Blessed is the one whose sin the Lord does not count against them and in whose spirit is no deceit. – Psalm 32:1-2